Local Diving
It's easy to forget that there's some awesome diving virtually right on our doorsteps - whether it''s Moreton Bay, Gold Coast Seaway or the Tweed, you can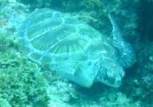 see turtles, rays, sharks, eels, and a fantastic amount of other marine life. We arrange regular boat and shore diving, and these can also be combined with one of our PADI courses
Book one of our local dive trips
Great Barrier Reef

There's nothing quite like it on earth

...
Being so close to the barrier reef, one of our aims is to try and get up there as often as possible. It's only a few hours drive from Brisbane to the start of the reef, or a short flight away for a boat trip into the heart of the reef.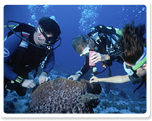 We organise trips primarily based on demand, so if this is something you'd like to do, let us know. We aim to have reasonably regular trips to explore this natural phenomenon that's simply world class in terms of diving.
Dive the barrier reef
Further Afield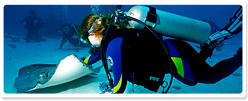 Our instructors have dived all over the world, so are uniquely placed to organise and guide trips to some of the world's finer dive destinations.
Whether it's the reefs of South East Asia, the historical wrecks of Europe, or the natural caves of South America, we can organise a trip there.
As we organise a number of trips every year, you have a unique opportunity to tell us where you'd really like to dive, what you'd like to experience, and what you'd really like to see, and you never know - we might just organise a trip!
Tell us where you'd like to go